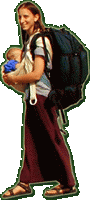 It took us 1984 days to leave and return to the shores of Palestine by land and sea. We left on a mission - to evolve by acquiring first-hand knowledge and experience from people intending to create a new tribal culture. We visited over 30 egalitarian green intentional communities and from each place we gave and received many gifts. As we traveled we made the most ecological, ethical, and affordable choices we could think of. This is the travelogue of our evolution - this is our EvoluLog!
Note: We stopped archiving at some point and still hope that our trip insipres.


Four months in cold Minneapolis gave us plenty of time to get to know the city and have opportunities to be creative through activism, music, raw foods, and family fun.
We visited new friends in Charlottesville, passed through Knoxville and Louisville, and finished off with a wonderful seven week visit with family in Appleton, WI.
Twin Oaks (2002.10.16 - 2002.11.1)
Near Mineral, Virgnia
One of the oldest and largest secular intentional communities in North America. A living proof that income-sharing and egalitarianism can inclusively meet the needs of many diverse people.

Click here for the complete EvoluLog...