Bichishausen, near Reutlingen, Germany/2001.07.14-2001.07.29
This is a more personal chapter, yet it probably still includes some interesting things for the non-relative reader...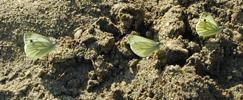 We took a break from visiting communities and let Erika's parents (came from Tokyo) spoil us with two weeks in an over-comfortable (yet very affordable)
guesthouse in a small and typical German village in the Schwabish Albs called Bichishausen (not too far from Reutlingen). Erika's father and sister finally got to meet Momo in person and OfeK got to meet some of Erika's extended German family and finish composing our website.
We hiked in forests full of wild raspberries and strawberries, discovered old castles, bathed (well, Momo) in the small nearby beach, went on kayaks with Erika's relatives, visited the bio-dynamic farm up the mountain, went to organic markets in the area, and peeked over the fences of the many vegetable gardens in every front yard (yum!).






We found this interesting educational toy in a store in Munsingen. It will teach your child how to feed her baby, with a bottle! (breast-feeding is for the poor). She will learn not to forget to diaper her baby with chlorine-bleach, pesticides, absorbing chemicals, synthetic fragrances, plastic, paper, and cotton, and once the diaper gets wet, get rid of it in the trash bin destined for the Mexican desert. Now it's time to buy more diapers! More and more diapers!
The family who runs the guesthouse was sincerely nice. Sharing with us the fruit of their gardens, always making sure we have everything we need.. they let us use their bicycles, and we went on a bike-trip through the forest and fields, with a bio-restaurant as a final destination. The photo with the film-projector on it is a short movie of Erika riding and breast-feeding simultaneously.



And finally, here are some bonus photos for Momo's faithful admirers:


Special thanks to Karin (Erika's sister) for taking some of the photos in this chapter.