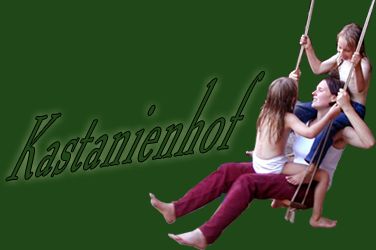 Near Gottingen, Germany/2001.08.12-2001.08.22
It took a few hours on the train to float down from Oberbronnen back to reality. We pulled our hand out to catch a ride to Marth and a car stopped in no time. The driver introduced himself as a "christ&quot and took advantage of the few minutes we were in his car to preach to us about his faith and Jesus and the Book. We said a final goodbye and a 'thanks be to God' and knocked on a big wooden door in a small and typical village in former East Germany.
Behind the door was a big cobble-stoned courtyard, with the farmhouse around it. We were greeted by a fat and small Vietnamese pig (very naturally ugly), who lives in a fenced area in the courtyard. After showing us to our half of a big pile of hay in the roof floor, he explained that part of the Kastanienhof agricultural initiative is to keep endangered species of domesticated animals in circulation in Germany. So besides himself, there were other kinds of pigs and some rare forest goats and chickens residing in the small valley behind the farmhouse where there are also some caravans and a productive garden growing lettuce, carrots, string beans, kale, onions, garlic, squash, to name a few.
Keeping these animals and the employment of drug addicts from the near rehabilitation center in different agricultural activities allows Kastanienhof to host youngsters (under 26) in their civil service (CV) year (in Germany you can choose between military service and civil service). There were two guys CVing here and taking care of our Vietnamese friend among other tasks and another considering-to-CV-here guy came with his cute girlfriend to check it out. We all shared the delightful composting toilet (a bucket style one).
In 1994 a group of friends formed an agricultural and ecological commune and purchased the property. Since then some have left and some joined and today there are five very cool and nice adults. Gotz, Kersten and their one year old daughter Marja live in a section of the farmhouse that is still being cementlessly (clay) restored. Another room is a home for a rawfoodist member that was on vacation. Marcus and Annette and their children live in a different house nearby in the village.
Sources of income include seminars, school and youth activities and tours, renting rooms, and occasional jobs outside. There's plenty of work in the renovation of the house (ecologically oriented), taking care of the animals and the garden. The work is organized after eating breakfast and singing good-bye horse in a circle meeting.
Besides what comes from the garden, they have an agreement with an organic produce distributor in Gottingen, giving them at no charge all the rejected food. We were lucky to be there when they had few dozen boxes of organic bananas from the Dominican Republic (distributor can only sell green bananas). They didn't quite know what to do with them (give them to the pigs?), but we knew immediately: the best ice-cream ever is from 100% ground frozen bananas (add grain/chicoree coffee for Italian Cappuccinana Gelato). We made this everyday and it became the absolute highlight of our visit (apologies to our Vietnamese friend). Gotz was nice enough to let us use his internet connection for the rest of our stay in Germany.
| | | |
| --- | --- | --- |
| Breakfast | Momo and Marja | Banana Heaven |


A guest and his self-made bike



Catch!