Herford, near Bielfeld, Germany/2001.10.07-2001.10.21
We arrived at Herford early Sunday night after one of our trains was late and we missed a connection (using as always the famous weekend ticket, which allows up to 5 people to travel anywhere in Germany at very little cost). We telephoned our hosts for the next two weeks, but there was an answering machine, hmm...
Meanwhile a passerby watched Momo walking around the station looking at storefront windows. Before we had a chance to say anything she came back with a stuffed animal Momo had looked at. Ah.. another thing for us to carry after Momo plays with it for a few minutes and never again.
Apparently, when we called, Joerg was watching on TV (rare) the beginning of the LIVE Empire Strikes Back and Barbara was putting the kids to sleep. By the time we called again she was already on her way to pick us up. We were told later, that they usually pick people up from the station with a tandem bike or a bike with a trailer that carries two other bikes for the guests to ride back, but this time it was the rarely used automobile.
We drove to the outskirts of Herford and to the end of Am Lambach Street (Parallel to the Am Lambach "river") and went into the bright yellow house that is attached to a renovated barn. One of the reasons they chose this spot is because it's a relatively easy 15 minute bike-ride to the town center. Being a "normal" house that was recently renovated, we were shown to probably the most comfortable room on our trip.

We had just dropped our bags, and OfeK and Joerg were already on their way out for a spontaneous demonstration against the Empires' terror-against-war which just started. It took place at downtown Bielfeld, the bigger city near Herford, and a few other friends showed up. The police showed up almost before we did, yet didn't interrupt and treated us with respect, probably because most of the demonstrators were older than them.

The Am Lambach commune was born out of a musician-activist group called Lebenslaute (website). Lebenslaute is a direct-action orchestra that performs in strategic locations, demonstrating for justice, peace, environmental matters, and for a better world in general. We were shown photos and newspaper clips of this project and it was impressive and exciting to see a complete symphonic orchestra play in the airport when refugees are deported or in the middle of a road when nuclear waste is transported.
The Lebenslaute demostrations are unique also because the participants, coming from a classical music background, have a different appearance/style than that of the common body-pierced activist punks. This aspect was also present in the Am Lambachers, which are quite radical in their walk/talk, yet look more decent than one would expect (some would say "normal" looking). There were nine Am Lambachers, all living together under one roof.

Barbara is a musician (viola, drums, voice) and musical therapist. She was staying at home at the time, taking care of the house, garden and kids. Once a week she plays the drums when her Jazz/Rock band comes over to rehearse. Joerg has a violin shop in town, and with an apprentice he repairs and sells violins. They have two kids. Berthold is some kind of a contemporary priest,
going to his church on his bike a few days a week and also organizes peaceful and quiet demonstrations in Herford. Mathias works mostly from home doing networking for a big educational organization. Anja was being a mother for a while but just started to work part time again. They have two kids too - Jaonas and Lara.
It was a real house share, with only one main entrance. Most places we've been shared common spaces, but had their own living-space with their separate entrances, meeting at mealtime or at work. Here, there was a room for each adult, and a room for each pair of kids, but it was just a room in one house, and most of the time the presence of others was well felt. We liked it this way, having our own nice room in the house, and quickly integrated into the big family. Momo was overwhelmed with all the children around her, and we could leave her together with Lucas for a long time while they played together: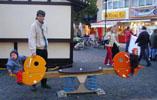 The members share all their income as well, which makes the unfair gaps between salaries obsolete. They purchase mostly organic vegetarian food and have one common/hot meal a day. A big part of the income is paid as "rent" to the owner of the house, their association. The association (has non-resident members too) decides together what to do with it, from investing further into the renovation of the house, to contribution towards one of their political campaigns. The extra rooms are used often for refugee families - for a few days or weeks or months and Joerg was telling us a few funny incidents related to the cultural differences.
Another (sadly-) exceptional thing, was the daily use of bicycles for non-sporty reasons. They renovated the whole house without owning a car! Berthold and Joerg ride their bikes daily to work, year-round, and it doesn't matter how cold or snowy it is. Errands, shopping, bringing the kids to the kindergarten, is all fossil-fuel-free and all man-powered. They had extra bikes for us, which we used mainly to participate in all anti-war demonstrations taking place in Herford or Bielfeld almost daily: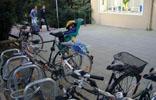 Momo took an active part on the bike in the weekly silent human circles in downtown Herford since the hit on the "free" world.
Our activities didn't impress the press, and a more sensational action was needed to show the German government and people that war is a profanity and that Germany should not dip her hand in the blood. Barbara thought of using the annual town festival that was taking place that week. The plan was to invade three rotating cars on the Ferris Wheel with banners and music. It turned out a success with a picture-spot in two newspapers:


Between the demos we found some time to help in the yard and garden. There were a few never-ending apple trees, and we were busy collecting them, making apple-sauce, apple-puree, apple-pies, apple-cakes and apple cookies! It was the only fruit we ate but we ate a lot of it. The garden also needed some attention and we planted a few winter crops. A slightly surreal task was moving an old unwanted piano from about a kilometer away.
We had some really good times together with the Am Lambachers. They are the nicest people and a lot of fun to be with. We warmly recommend this place to down-to-earth people who decided to stop being nomads (as Mathias put it). The Am Lambachers are looking hard for more members - the room we stayed in is ideal for a single person and Mathias and Anja will be moving out in a few months, so another 3 lovely rooms will be available for any cool family out there who seek to reduce their impact on life and be more active with the stuff that matters by sharing a house with these wonderful people.