Niederkaufungen, near Kassel, Germany/2001.11.04-2001.11.17
Kommune Niederkaufungen was our last stop in Germany before migrating south and it became a grand ending to our extensive tour of the country's new tribal culture...
We first heard about Niederkaufungen in January 2001, in Urupia, the first commune we visited in Europe. Niederkaufungen buys Urupia's products and supports them financially, so we had the chance to taste the same olive oil and wine we enjoyed at the beginning of our trip. Since then many people told us about Niederkaufungen, especially about how well-organized it is and their high standards of living.
For general facts, here is a quote from their website:
The German "Kommune Niederkaufungen" was founded in late 1986. The 4-acre property is located right in the heart of a neat small town (named after the surrounding forest, pop. 12.000) with many old frame-work-style houses, which has in recent years developed to a suburb of the city Kassel (6 mi. away, pop. 200.000) in central Germany. The group of presently 52 adult members (24 women, 28 men, age 24 to 49, average 40) and 18 children/teenagers (age 1 to 19, average 11) has become Germany's largest non-religious/spiritual community. The basic maxims include a far-reaching shared economy, decision-making by consensus, an undogmatic "left-winged" attitude towards politics, the "reduction of nuclear-family structures" (living in group-units, shared child-care etc.) and gender-typical hierarchies and an ecological approach to work and lifestyle.

Members presently work in 12 areas (carpentry, seminar-center, construction-company, kitchen/catering, organic vegetables, cattle, leather-workshop, layout-/printing-business, architects-office, kindergarten, metal-work, administration / consulting-business) and live in 10 "living-groups" of 3 to 8 adult members + kids (which occupy distinct areas of the four residential buildings, each person has one room, each group has a living-room, but usually no kitchen due to the central supply).
So far we visited mostly young and/or small communes and we came to the famous Kommune Niederkaufungen expecting to be somewhat lost between all the people and the other visitors. Instead we found a much more personal, familiar feeling to the place. We came there on an official visiting week, where people interested in joining the commune could test the waters. Four of the members volunteered to sponsor the guests and Frank, a native English speaker, became our close host and guide. The members invited us to a social meeting on the first night where everybody introduced themselves and general things were explained. On top of our luxurious (relatively speaking) room and superb quality food, Frank was always making sure that we are comfortable and was never too tired to translate and update us on everything that was going on. How very nice!
After breakfast, we would go help in one of the work areas. We bicycled to the near organic farm, to weed and harvest in the bitter cold until our fingers froze. We stuffed and stamped envelopes with their new seminar program. Erika worked in the kitchen almost every morning, preparing food for the fifty members and guests, plus seminar guests, plus the kids in the kindergarden, and for their catering business. Another day we bicycled to the animal farm to help unload suger-beets. OfeK had the luck of cleaning up the big pots where they had made sausages of one of their freshly slaughtered pigs... The lovely scent stayed with him for a week while he also helped a bit installing a new computer. All of the work was accompanied with great conversations in all sorts of subjects with the community members and the other guests. It seemed that part of the success of this community could be attributed to this responsibility towards hard work and everyone doing their share.





A fifth of the income comes from the state (claiming welfare), but then they also donate a portion of their income to "3rd world" organizations and and other communes. We joined the politically active members on a couple of anti-globalization and anti-war happenings in downtown Kassel and one attempt to block a night train delivering nuclear waste back from France - a long, cold and wet night in the dark forest...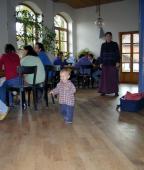 Every meal had separate portions for vegans and vegetarians (but sometimes the labels would move around by accident... very realistic cheesy flavor indeed)

and all of the food was organic with the fresh produce coming from their own farm. The beautiful dining room was designed with tables of six or so, so we were able to meet new people at every meal. After a few bites, Momo would go running around the tables with the few kids she could find.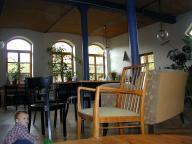 There was a huge and organized library, with more than a few books in English, and Erika checked them all of course while OfeK read the New Internationalist he borrowed from Frank. There was a game room with all-you-can-play pinball arcade... The laundry system worked quite well, queuing your basket (with many eco-soap options) at the end of the "line" and filling the machine with the next load. This worked quite well, considering they had only two machines.
There's much more to tell - they use salvaged wood for building, they heat their house with a central wood stove which boils the water and distributes it to the buildings and rooms, they generate some of their own electricity with a natural gas generator, rain-water is used for the toilets and laundry, they have a huge collection of bicycles... This commune finally proves you don't have to go the "Twelve Tribes" way in order be a large community that really works.
After OfeK's over-three-hour-long eco-slide-show, with most of the community showing up and staying all the way to the end... we were offered to stay another week which we happily accepted. At the end of the visiting week we had another meeting with the guests and hosts, and everybody reflected with a mouth full of dry fruit.