Wales and England/2002.05.31-2002.09.07
This is a medley of different places we visited in Wales and England.
Stepping Stones (5/31-6/10)


Our first stop in Wales was a rural housing co-op called Stepping Stones (website), located near Bristol in a town called Red Brook in the Wye Valley. We had a steep uphill climb to their house carrying our backpacks but the view definitely made it worth it. From the top you could see forest covered mountains and the river running through the valley. The house was a traditional three-story farm house with many acres of pasture, apple trees and forest.
They were a fairly new co-op and still looking for new members. At the time there were about six adults, a teenager, and a 5-year-old. They were all vegetarians and one vegan though most of the time they ate their meals separately. There was a separate stove and refrigerator for vegan and non-vegan food (because of more vegans living there in the past), a practice we hadn't seen before.

Our room for the week was a small trailer on the side of the house.

Because two of the residents did child entertainment for a living, there was a big trampoline in the yard where Momo spent most of her time.
During our week there were quite a few celebrations. First there was a music festival in the next town and then the Queen's Jubilee by the river (where the community set up trampolines). Then two members, Debbie and Al had birthdays on the same day, and finally at the end of the week the community hosted a big party in their barn.
One day, OfeK and Momo were taking a walk and crossed a redhead named Sharon. For some reason OfeK connected in his mind the name Sharon with a girl Bill (which we met in SunSeed) was emailing him about. As OfeK was making this connection Sharon said, "You must be OfeK and Momo!" As they matched the description in Bill's stories.
What a chance occurrence! She called Bill and he was there in matter of hours. It was good to see him again - he got a new digital camera and took many artistic photos like this one and quite a few of Momo.
Pantri Nolwenn (6/10-6/20,8/2-8/12)

After meeting Wayne and his daughter Nolwenn one year before when we were both guests at Les Amis de la Douceur et de l'Harmonie in the Pyrenees, we finally got to see them again, and meet Annie, at their home in Trecwn (pronounced Trakoon), in Southwest Wales. There they had started a vegan, organic, whole foods bakery (we were not too strict about eating raw food here) out of their home (website) and sold their breads and cookies at local farmer's markets. In addition to being vegan and organic they also had the business principle of only selling locally and to small quality shops. We were impressed that even though they were just starting up on very small funds, they stuck to their principles without compromise. During our visit we took turns helping Wayne bake from nine at night to five in the morning and set up at the markets. On our second visit we went to the Estedfodd festival, a huge five-day festival of Welsh culture and language, and helped sell their goods. Our table position made sales a bit slow so OfeK went out with a basket of cookies all around the festival and was sold out by the end of every day.
When there was no baking to be done we went on many nice day trips walking along the coast trail and to the beach. The girls enjoyed each other's company and for many weeks after we had left Momo was still asking to see Nolwenn. We have a good feeling our paths will cross once again in the future.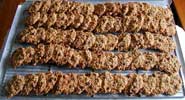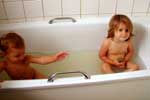 We were looking forward to visiting our next community, Fox Housing Co-op, near Swansea, in Southern Wales. Not only was it vegan and had two young girls for Momo to play with, but also we would get to see Phil again, who we had met at EcoForest in Spain (with whom we have been planning to set sail and having a raw community at sea - see EcoNomadia). Though the scenery was not spectacular, we had a nice comfortable room in the main house together with the founding members (who were also into attachment parenting - extended/tandem breastfeeding, cloth diapers, family bed, nonviolent communication, etc.), and access to all the organic food we could ever want. The same couple who founded the housing co-op ran Organics2Go - the largest organic produce delivery service in Wales (which employed people who lived in the housing co-op and people from outside). Their mission was to compete with the supermarkets, which stock most of the organic food in Britain and keep prices high for the consumer and low for the farmer. We worked in the fields and polytunnels - planting, weeding, and harvesting, or in the warehouse where they weighed and bagged the produce along with the different fruits that they imported from elsewhere. From there they delivered it all to hundreds of households as far as London. It was a pretty hectic place and most of the ten or so people who lived in the 'community' were there because of the work. In exchange for working 40 hours a week they would get food, a room, and a weekly stipend. It was the first time on our trip that we were in a real employer/employee situation and it was very foreign for us to hear the employees gossiping and complaining, which we didn't hear so much in a cooperative atmosphere. It was a good experience to see how such an operation runs and we met a lot of like-minded people and had good conversations. Regretfully, we have not been taking too many photos, but here are Savannah and Freya with Momo in the bathtub.


After seeing her ads posted in all sorts of raw and veggie classifieds we called up Lisa who gave us a room in her house in northern London at very little cost. It turned out that she had a four-year-old daughter Coral and we had many things in common in our ways of raising our children (like attachment parenting, raw food, etc). She had a totally raw kitchen complete with Champion and Green Life juicer and blender and we had a good time making communal meals. One day she had a raw-food get-together and we met a couple of people who we had met in EcoForest in Spain (where Lisa, also, had spent a few months).
We enjoyed the energy of London, mostly visiting parks and gleaning at the end of markets. At the end of one we found a huge box of ripe mangos, pineapples, and bananas left over for the garbage trucks. We quickly grabbed up the heavy box and took it home on the 'tube' and put it all into the freezer. We had banana soft-serve ice cream every day that week! We also found new foods in Chinatown and had our first taste of young coconut, longans, and durian (the latter drove OfeK quite insane in the following months).
During our stay Lisa shared with us some of her poems about homeschooling, veganism, and many others. They were flowing and full of humor and cute rhymes. We published two of her poems - School's Out and Ronald McDonald - in the LiBaware and now she has a new website of her own.
Big Green Gathering (7/21-7/29)

After our first visit to Blackcurrent in Northampton (see below) we were on our way to the Big Green Gathering, which we were told was the biggest 'green' event on the island. We had called ahead and got ourselves signed up as stewards to avoid the entrance fee for the five-day event. We hitchhiked down to the site in Cheddar, near Weston Super Mare, and pitched our tent with the rest of the volunteers. We started our 6 hour shifts by standing at designated points and directing traffic. It was exciting to see the huge event getting set up.
Soon, though, we began to get a bit cynical with the 'greenness' of the event. The organizers chose a site which "didn't allow" the use of composting toilets - and chemical toilets were everywhere. Almost all the food vendors used disposable dishes (while a festival we went to in Berlin, which wasn't "green" at all, had nothing but real dishes with a deposit). The meals for the stewards were pure processed junk - a typical one would be 3 kinds of refined starches (like pasta and couscous with red sauce and bread on the side) and no salad or veggies whatsoever. We packed up and moved camp over to the Permaculture area where Phil was parked with the EcoForest display.
The best part of the event was that we got to see again most of the people we had met at every community in England and Wales so far. Tinker's Bubble, Steward Wood and Keveral Farm were all there doing demonstrations and talks. Erika got to make a willow basket at Tinker's Bubbles' spot. Though the event as a whole wasn't up to par, there were a lot of knowledgeable people there exchanging information. Some highlights include a solar-powered movie theater and music stages that were powered by people pedaling a couple bicycle generators in front of them. Rinky Dink, the music recording and stage on wheels was there. The people in charge of the Permaculture area of the event set up a really beautiful demonstration area, complete with solar showers and compost toilet (which wasn't for public use). There were workshops on cloth diapers and alternative menstrual products. There were displays of alternative building and manual tools. We learned how to make Leafu, or leaf curd, out of gathered wild plants. There was also a nice area for kids of all ages, including trampolines for Momo. One night around the campfire, we listened to a band called Seize the Day, who performs wonderful folk music with a strong political/environmental message. There was also a whole other area dedicated to healing mind and body, which we didn't get to see much of. But there was a raw food restaurant there and the Hare Krishna's were giving out free meals every day, when they weren't chanting and parading around.

Blackcurrent / Anarres (7/16-7/21,8/12-9/7)

Our last community to visit was Blackcurrent in Northampton, two hours by thumb north of London. We had picked this community to visit because it was urban and vegan, and it turned out to be a brilliant (as they often say in England) surprise.
Though very small, three adults and one teenager plus a Dutch guy who paid rent but shared in the meals, our interests crossed along many lines. They were simple-living totally car-free urbanites who made a living by delivering organic food boxes to people's homes by bicycle. When they weren't involved in this activity they were working on fixing the old house or in the garden or putting time in political action, such as the weekly antiwar tabling in front of the nearby shopping mall. We helped out in many ways around the house like bringing scrap wood from a local piano part maker and sawing it down to size at home. We salvaged bricks from construction sites to use in fixing their old stove/chimney. OfeK also built a website for both Blackcurrent (the existing community) and Anarres (a new rural community that they want to start).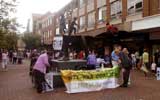 The house was a huge four-story red-brick building, squeezed in the middle of a whole row of similar apartment buildings. They had a nice small backyard packed full of flowering bushes, currants, blackberries, raspberries, and more than five varieties of apple trees. There was a huge gymnasium-type room for doing art and construction projects, ball playing, juggling, and swinging on a swing hung from the rafters (Momo's favorite). There was another large room with chairs and computers, which was donated to local groups to use for meetings.
The city of Northampton was your usual big stinky city but it did have a few large open parks. Aside from going to the park we would go to the big daily fruit and vegetable market which sometimes had organic food (and we would ask around for wooden crates that we used for stocking up scrap wood for heating in the winter). We also visited the local library. More often we would just hang out at the house in the good company of our hosts.
We were especially enthusiastic about the new community that is being formed within Blackcurrent. They call it Anarres after the utopian planet in Ursula Le Guin's famous novel The Dispossessed. Currently it is just an income sharing pod inside Blackcurrent, but once enough people are gathered they will move out to a more rural area. What's nice is that they put it all very clear in writing and in much detail, make sure to read all about it on their website. If we had to choose now a project to be part of, this would surely be the one.